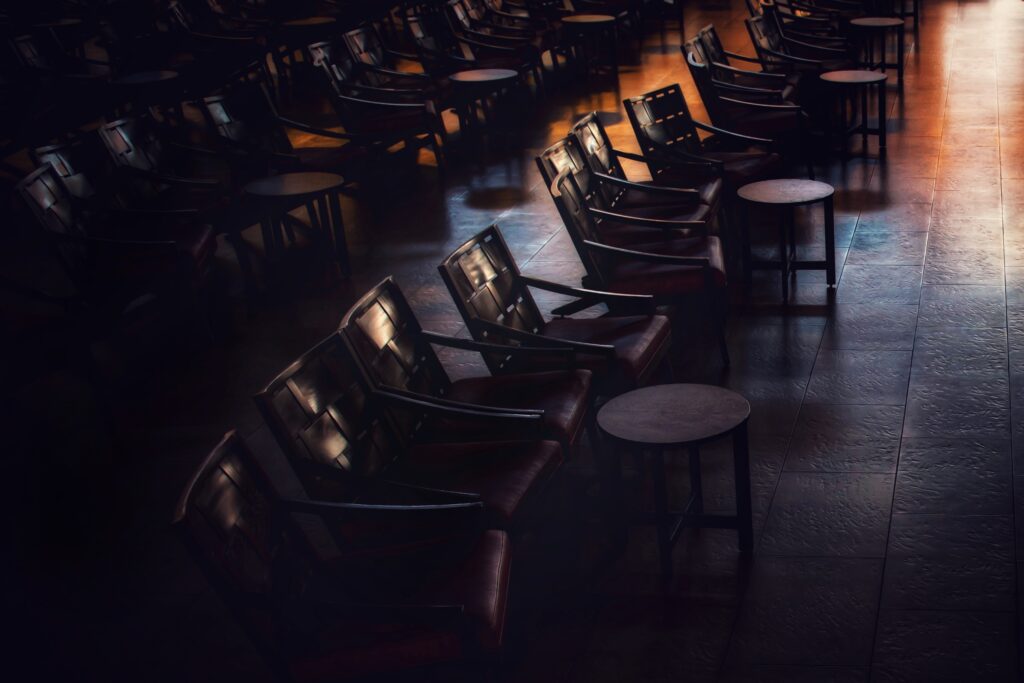 Presentation for Flemington Baptist Church
January 26, 2023
American Baptist Home Mission Society - Space for Grace 2022
September 21-23, 2022
Missing the Mark with the Spiritual but Not Religious
American Baptist Home Mission Society - Space for Grace 2022
September 21-23, 2022
Missing the Mark with the Spiritual but Not Religious
2022 Summer Think Tank Meeting: Health Enhancement Research Organization (Hero)
June 6, 2022
Workplaces with Higher Callings and the "Spiritual but not Religious" (SBNR) Movement
The History of Religion and Politics in America
Worthington Presbyterian Church, Worthington, OH
A Four Sunday Series beginning May 8-29, 2022
Worthington Presbyterian Church - Sermon
Worthington, OH
May 15, 2022
First Presbyterian Church - Sermon
Marysville, OH
April 24, 2022
Zoom Lecture for Emory University Chaplains on "What You Need to Know about SBNRs
April 18, 2022
Worthington Interfaith Neighbors
Gran Torino Film Discussion
March 20, 2022
Zoom Discussion at 6:30 PM
SBNR: Spiritual But Not Religious
Presented by the Interfaith Center of the Miami of Ohio University in Athens, Ohio
Tuesday, October 12, 2021
7:00 PM – 10:00 PM EDT
St. Andrew Presbyterian Church - Sermon
"Is Doubt Bad?"
Sunday, October 17, 2014
10:30 AM
What's Religion Got to do with it?
"What do religion and politics have to do with each other?" That has been a pressing question since the formation of our nation. While many Americans rely on our 'separation of church and state doctrine, sometimes religious people wish a closer connection, such as when Protestant groups promoted and achieved Prohibition.
In two sessions, we will examine a brief history of the relationship between church and state, the politics that have gotten implicated, the sharp polarization that is resulting, and how the increasing secularization of the U.S. may affect all Americans, religious or not. Please join us as we tackle these issues that are so vital to the unity and societal health of our nation.
Thursday & Friday, October 28-29, 2021
10:00 AM – 12:00 PM EDT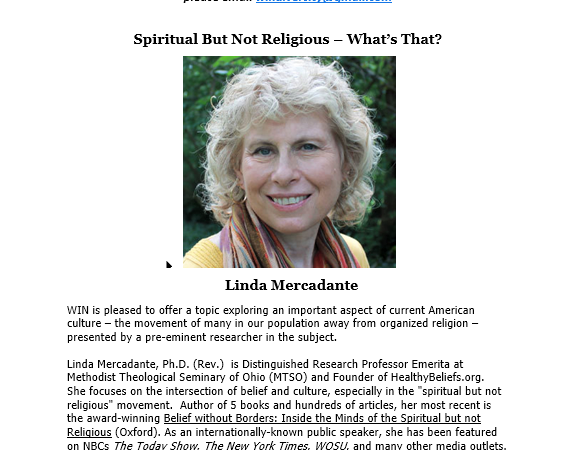 Spiritual But Not Religious - What's That?
Worthington Interfaith Neighbors
Tuesday, October 26, 2021
7:00 PM
The surging "spiritual but not religious" (SBNR) movement is the hottest "religious" new in many decades. Although the U.S. was once the most devout nation in the industrialized West, now religious affiliation is rapidly declining. In order to make sense of this, we will consider: Who are the SBNRs? What do they believe? And what might this mean for the U.S.?
Covenant Presbyterian Church - Sermon
Sunday, October 31, 2021
10:00 AM
Columbus, OH
https://covenantpcusa.org/
Boulevard Presbyterian Church - Sermon
"Doubts: Are they bad for you?"
Sunday, November 14, 2021
Grandview Heights, OH
https://blvdchurch.org/
The Effects on Faith of Forced Termination
November 19-22, 2021
American Academy of Religion
Hanover Presbyterian Church - Sermon
December 5, 2021
10:25 AM
Newark, OH
Facebook Live Stream
https://www.hanoverchurch.com/
American Baptist Home Mission Society - Space for Grace 2022
September 21-23, 2022
Missing the Mark with the Spiritual but Not Religious