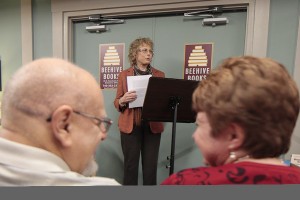 Spirituality and Narrative
Would you like to "come home" to your spirit?  Did you know that stories heal us and sometimes even save us!  Let Dr. Mercadante show you how narratives tap into and release your spiritual center. She uses film, memoir writing, and story-telling to help her audiences find spiritual insight, growth and liberation. 
Book Dr. Mercadante to guide your group in one or more of the following areas:
"The Healing Power of Narrative"
Using film, she will guide you in theological discussion to gain a deeper knowledge of your hopes and dreams. Using writing, she will help you tap into your own story. Share life lessons with other participants and gain new insights into your spiritual journey. Writers especially value Dr. Mercadante's insights into the creative process and examples from her recently published spiritual memoir Bloomfield Avenue: A Jewish-Catholic Jersey Girl's Spiritual Journey.
"Why We Go to the Movies"
Are movies just mere entertainment, or are we seeking more there? Join Dr. Mercadante in exploring why visual images are so compelling and often filled with spiritual import.
"Faith & Film"
Movies can be used to tap into our deepest spiritual longings. Learn how this process works and how theological themes can be explored through film. Dr. Mercadante can also train you to use film as a tool for theological discussion, a helpful process for youth group leaders, clergy, pastoral counselors, and adult education teachers.
"Movies that Make Us Laugh, Feel Good, & Think"
We are often drawn to "feel good" films, as well as films that make us laugh, and there are good reasons for that. But some films also raise important theological themes that can be explored as a way to understand our culture and ourselves.
"Jesus & Christ Figures in Film"
Jesus and Christ figures have long been a staple of modern cinemetography. Learn why that is, the history of this phenomenon, and how the filmic image of Jesus changes with the changing times.
"Finding Your Spirit through Life-Writing"
Writing about your own life-journey pays huge dividends in mental and spiritual health. Dr. Mercadante can tailor a spiritual memoir writing workshop for your group, lasting from just a few hours, to a weekend retreat, or a week-long course. Dr. Mercadante will also share the strategies she developed in writing her own memoir, Bloomfield Avenue: A Jewish-Catholic Jersey Girl's Spiritual Journey, so you can begin this creative process with confidence.
"Writing as a Spiritual Practice"
Writing is an amazing spiritual practice, a creative process, and not as daunting as many fear. Dr. Mercadante will guide you through exercises that get you started and keep you going. She can also help you start a writer's group that keeps the creativity going.