Dr. Mercadante Discusses Her Views and Research on this "Today Show" Video.
---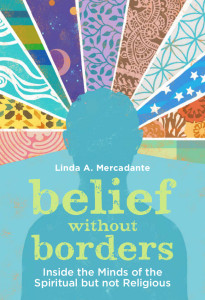 Dr. Mercadante's most recent book was awarded "Best of the Best Spiritual Books of the Year" by Spirituality & Practice. 
Belief without Borders: Inside the Minds of the Spiritual But Not Religious
[Oxford University Press, 2014}
"Rev. Dr. Linda Mercadante's ground breaking research concerning the rapidly growing phenomenon of individuals leaving organized religion to become "Nones" or "Spiritual But Not Religious" is of special relevance to pastoral psychotherapists who are interested in the isomorphic and "intersubjective" relationships between personality, spirituality, religion and culture. Her scholarly, erudite, and well focused presentation was well received with very positive reviews. A job well done."
                            -Rev. Dr. Merlin Mather, D.Min., LCPC, TFTrx, Elder, United Methodist Church, Fellow, American Association of Pastoral Counselors, Licensed Clinical Professional Counselor (Illinois)
Why "Spiritual but not Religious"?
The fastest growing "religious" movement today is among those who claim to be "spiritual but not religious." They avoid dogmatism, shun institutionalism, practice a variety of spiritualities and draw from many wells.  Yet Mercadante's research shows they do have beliefs and are thinking deeply about "the big questions." How did this movement start and what can we learn from it? What are the spiritual needs of these determined seekers? And how can they find serenity, grow spiritual roots, and experience fulfillment?
Linda is a first rate scholar and writer….She can engage very practical human problems and issues with theological insight, drawing upon the social sciences, social movements, and the theological tradition in mutual dialogue."
-Prof. Tyron Inbody, Ph.D., United Seminary
Watch Dr. Mercadante's enlightening message about reaching the "Spiritual but not Religious" …
Read the Rave Reviews … 
The National Catholic Reporter 
Association for Mormon Letters
Dr. Mercadante also blogs on this topic for The Huffington Post, CNN.com, and OUPblog. 
Awards for Dr. Linda Mercadante's Groundbreaking SBNR Research:
– "Best of the Best Spiritual Book of the Year"
–  Henry Luce III Fellowship in Theology 
– Ohioana Writer Award 
Click on these links to read more:
"Examining the Growth of the SBNRs," The  New York Times
"Good News about the Spiritual but not Religious"
"SBNRs: Knowing the Types, Avoiding the Traps"
"Going, Going, Gone, Books Studies Exodus from Religion"
"Theology Prof Advises Faiths on Reaching the SBNRs"
"Prof. Interviewed in Columbus Dispatch"
"The Seeker Next Doors: What Drives the SBRNs?"
"Religious Indifferents: What's the Big Deal Anyway?"
Contact Dr. Mercadante to speak to your group on:
"Who are the Spiritual But Not Religious?" [SNBR]
People who self-identify as SBNR can be found both inside and outside religion, in all age groups and parts of the country. What ties them together? Just how diverse are they? What do they believe? Learn more about what researchers call the fastest growing "religious group" in America.
"Many Journeys – Many Practices"
Dr. Mercadante has interviewed over 100 SBNRs, as well as conducting focus groups, having scores of informal  conversations and visiting many SBNR sites. Learn about these intriguing persons who self-identify as 'spiritual but not religious,' including their backgrounds, spiritual journeys, hopes, ethics and practices.
"Meeting and Serving SBNR Folk"
Why do SBNRs distance themselves from organized religion?  Is there anything that can be done? How can religion help them grow spiritually, find community, inhabit sacred space, and contribute to the common good.
"The Background of the SBNR Movement"
The 'spiritual but not religious' movement has many roots and traditions.  Learn some of the historical, sociological, psychological and theological factors which have combined in a "perfect storm" to produce the recent and growing phenomenon of non-religious spiritual seeking.
Sample Dr. Mercadante's Research on the "SBNR" phenomenon:
Read the Publishers Weekly review of Dr. Mercadante's latest book on the SBNR movement
Read Dr. Mercadante's blog post on CNN.com
Hear her speak with Ann Fisher of "All Sides" at WOSU AM, a National Public Radio affiliate
Hear her speak with Fred Andrle of "Open Line" at WOSU AM, a National Public Radio affiliate
Read the front-page article about Dr. Mercadante's project in the Boulder (Colorado) Daily Camera:
Read the PCNews Online article that was picked up by many other websites:
Recent Presentations About SBNRs:
Wycliffe College, University of Toronto
American Academy of Religion, Mysticism Unit
Unitarian Universalist General Assembly, Leadership Consultation
Presbyterian Church (USA) Task Force
American Association of Pastoral Counselors
Chaplains Association of Ohio
The Mystical Positivist radio show, Sebastopol, CA
Older Wiser Lifelong Scholars, Westminster-Thurber, Columbus, Ohio
OhioHealth Pastoral Care retreat, Westerville Health Center, Westerville, OH
Wellstreams Spiritual Directors conference, St. Mark's Episcopal, Columbus
Adult education, All Saints Lutheran, Worthington, Ohio
Beyond Tolerance Address, Juniata College, Huntingdon, PA
Progressive Brethren Gathering, Stone Ch of the Brethren, Huntingdon, PA
SBNR lecture, Trinity Lutheran Seminary, Bexley, OH
Religious Conversions, American Academy of Religion, San Diego, CA
Trinity Lutheran Seminary Winter Event, Bexley, OH
Spiritual Seekers event, First Community Church, Columbus, OH
Research Project Summary:
Linda A. Mercadante, Methodist Theological School in Ohio, Unfettered Belief, Untethered Practice: Thinking Theologically about 'Spiritual but not Religious'
Non-religious spiritual seekers claim doctrine is far less important than—even non-essential to—spiritual practice. Yet I sense an alternative meta-narrative developing among the "spiritual but not religious" [SBNR]. This influential ethos has definite theological implications, challenging and offering opportunities to Christianity especially in the areas of epistemology and concept of God. Ironically, in spite of its anti-hegemonic self-presentation, the SBNR ethos actually homogenizes and markets the voice of disparate spiritual "others" while championing hybridity and anti-dogmatism. I address the emerging narrative theologically, focusing on the four main conceptual areas of transcendence, human nature, community, and life-after-death. Preliminary analysis shows an emerging picture, including: a) a transcendent dimension consisting of an unknowable, impersonal, universal energy source; b) an ephemeral human nature with the eventual dissolution of identity in death, potentially with an amorphous energy dissipated or re-invested, and c) a restless search for community which often replicates a societal desire for more freedom, less commitment and minimally invasive contact. My approach includes in-depth interviews, observation, online and print research, blog conversation, and site visits. Early analysis of the first 60 interviews across North America also indicates an underlying eagerness among some SBNRs to excavate and examine belief.
To book Dr. Mercadante — or get additional information — contact her at


[email protected]