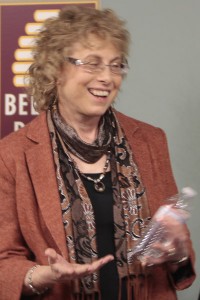 Spiritual But Not Religious [SBNR]
Many people today claim to be "spiritual but not religious." They avoid dogmatism, shun institutionalism, practice a variety of spiritualities and draw from many wells. How did this movement start and what can we learn from it? Most important, how can we serve the needs of this growing group of determined seekers?
Book Dr. Mercadante to speak to your group in one or more of the following areas:
"Who are the Spiritual But Not Religious?" [SNBR]
People who self-identify as SBNR can be found both inside and outside religion, in all age groups and parts of the country. What ties them together? Just how diverse are they? What do they believe? Learn more about what researchers call the fastest growing "religious group" in America.
"Many Journeys – Many Practices"
Dr. Mercadante has interviewed over 85 SBNRs, had hundreds of conversations and made many site visits. Learn about these intriguing persons who self-identify as 'spiritual but not religious, including their backgrounds, spiritual journeys, hopes, ethics, and practices.
"Meeting and Serving SBNR Folk"
Why do SBNRs distance themselves from organized religion?  Is there anything that can be done? How can religion help them find spiritual health, community, sacred space, and a way to 'give back.'
"The Background of the SBNR Movement"
The 'spiritual but not religious' movement has many roots and traditions.  Learn some of the historical, sociological, psychological and theological factors which have combined in a "perfect storm" to produce the recent and growing phenomenon of non-religious spiritual seeking.
Sampler of Upcoming Events for and about SBNRs
I will be presenting my research on "spiritual but not religious" people many times in the coming months. You are welcome to attend any of these events. Write me if you need further details.
*Sept. 12, 9:00 a.m. — Mennonite Central District conference, at Columbus Mennonite Church, Oakland Park Ave, Clintonville
*Oct. 2, 9:00-3:30, Chaplains Association of Ohio, 890 W. Fourth St, Mansfield, OH
*Oct. 23-24, 10:00-3:00, Older Wiser Lifelong Scholars, Westminster-Thurber, 717 Neil Ave., Columbus, Ohio
*Oct. 27, 9:00-12:00, OhioHealth Pastoral Care retreat, Westerville Health Center, Westerville, OH
*Nov. 1, 9:00-3:30, Wellstreams Spiritual Directors conference, St. Mark's Episcopal, 2151 Dorset Rd., Columbus
*Nov. 2 & 9, 9:30-10:30, Adult education, All Saints Lutheran, Worthington, Ohio
*Nov. 6, 7:00, Beyond Tolerance Address, Juniata College, Huntingdon, PA
*Nov. 7-8, Progressive Brethren Gathering, Stone Ch of the Brethren, Huntingdon, PA
*Nov. 10 afternoon, Peterson class, Trinity Lutheran Seminary, Bexley, OH
*Nov. 21-25, Religious Conversions quad unit, American Academy of Religion, San Diego, CA
*Feb. 9-10, Trinity Lutheran Seminary Winter Event, Bexley, OH
*Feb. 20-21, Spiritual Seekers event, First Community Church, Columbus, OH 
Sample Her Research on the "SBNR" phenomenon:
Read the Publishers Weekly review of Dr. Mercadante's latest book on the SBNR movement http://www.publishersweekly.com/978-0-19-993100-2
Read Dr. Mercadante's most recent blog post on CNN.com http://religion.blogs.cnn.com/2014/02/22/good-news-about-the-spiritual-but-not-religious/
Hear her speak with Ann Fisher of "All Sides" at WOSU AM, a National Public Radio affiliate
http://www.wosu.org/students/www.wosu.org/allsides/?archive=1&date=08/12/2010
Hear her speak with Fred Andrle of "Open Line" at WOSU AM, a National Public Radio affiliate
http://www.wosu.org/radio/radio-open-line/?archive=1&date=06/10/2008
Read the front-page article about Dr. Mercadante's project in the Boulder (Colorado) Daily Camera:
http://www.mtso.edu/main/bouldermercadante4-27-08.pdf
Read the PCNews Online article that was picked up by many other websites:
http://www.pcusa.org/pcnews/2008/08779.htm
News Flash:
Dr. Mercadante awarded Henry Luce III Fellowship in Theology for her work on "Spiritual But Not Religious"
Project Summary:
Linda A. Mercadante, Methodist Theological School in Ohio, Unfettered Belief, Untethered Practice: Thinking Theologically about 'Spiritual but not Religious'
Non-religious spiritual seekers claim doctrine is far less important than—even non-essential to—spiritual practice. Yet I sense an alternative meta-narrative developing among the "spiritual but not religious" [SBNR]. This influential ethos has definite theological implications, challenging and offering opportunities to Christianity especially in the areas of epistemology and concept of God. Ironically, in spite of its anti-hegemonic self-presentation, the SBNR ethos actually homogenizes and markets the voice of disparate spiritual "others" while championing hybridity and anti-dogmatism. I address the emerging narrative theologically, focusing on the four main conceptual areas of transcendence, human nature, community, and life-after-death. Preliminary analysis shows an emerging picture, including: a) a transcendent dimension consisting of an unknowable, impersonal, universal energy source; b) an ephemeral human nature with the eventual dissolution of identity in death, potentially with an amorphous energy dissipated or re-invested, and c) a restless search for community which often replicates a societal desire for more freedom, less commitment and minimally invasive contact. My approach includes in-depth interviews, observation, online and print research, blog conversation, and site visits. Early analysis of the first 60 interviews across North America also indicates an underlying eagerness among some SBNRs to excavate and examine belief. See "Resources" page for press release.
Return to Top